Boxes of Good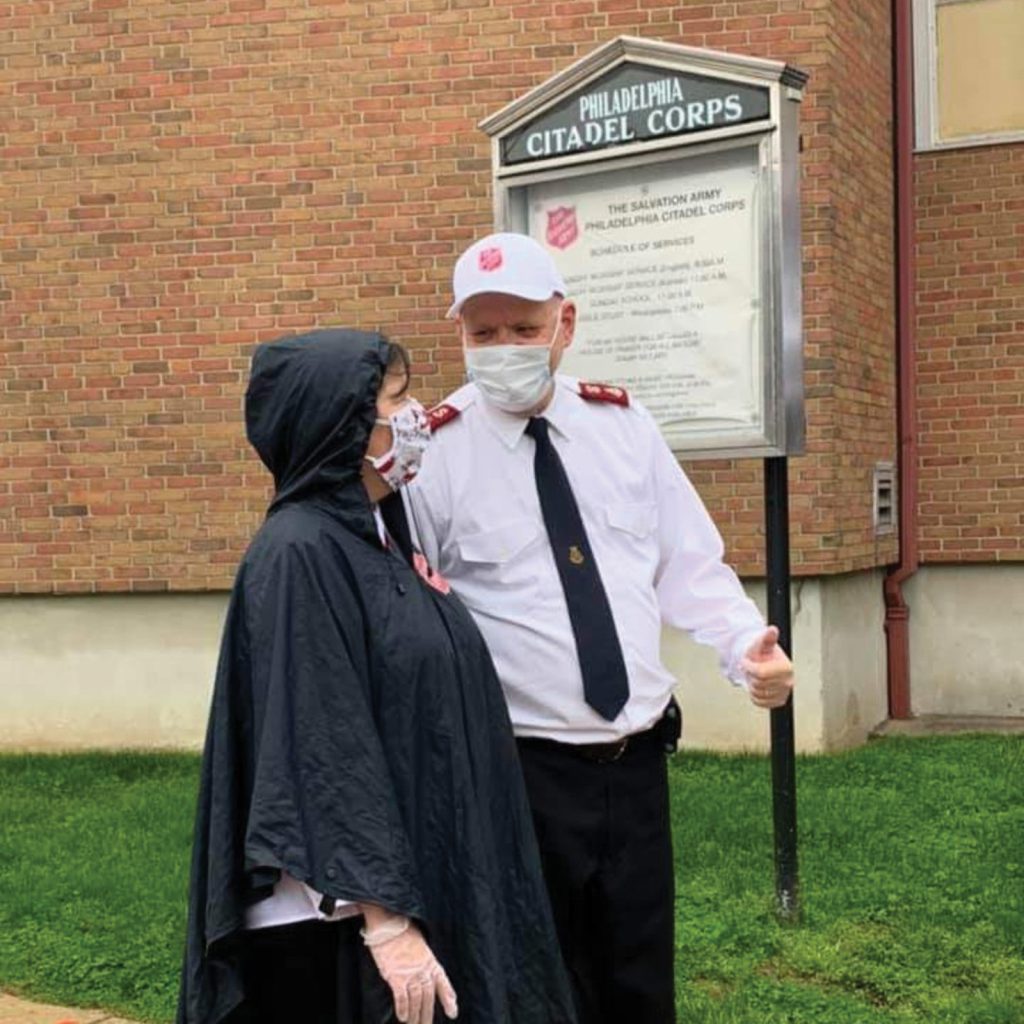 Every Monday and Thursday morning in the Lawncrest neighborhood of Philadelphia, over 400 boxes of food are given by The Salvation Army's Philadelphia Citadel Corps (church). This is a wonderful partnership between The Salvation Army, the City of Philadelphia and the local food bank, "Philabundance."
The sidewalk around our corps (church) building is marked every 6 feet with red tape. Most people are in line for about an hour, so it gives us time to talk to each person as they wait: "How are you today?" "Is there anything we can pray for?" "I noticed you're not wearing a mask today. Would you like one?" Another question that gets a big response is: "It's difficult being isolated for so long. How are you doing?"
We are beginning to know returning visitors. There is one Septa driver who we pray a blessing over before he goes to work, right after getting his family a box of food. We pray over our Philadelphia police officers and sheriff at the end of our shift. These are extremely powerful moments within our ministry team.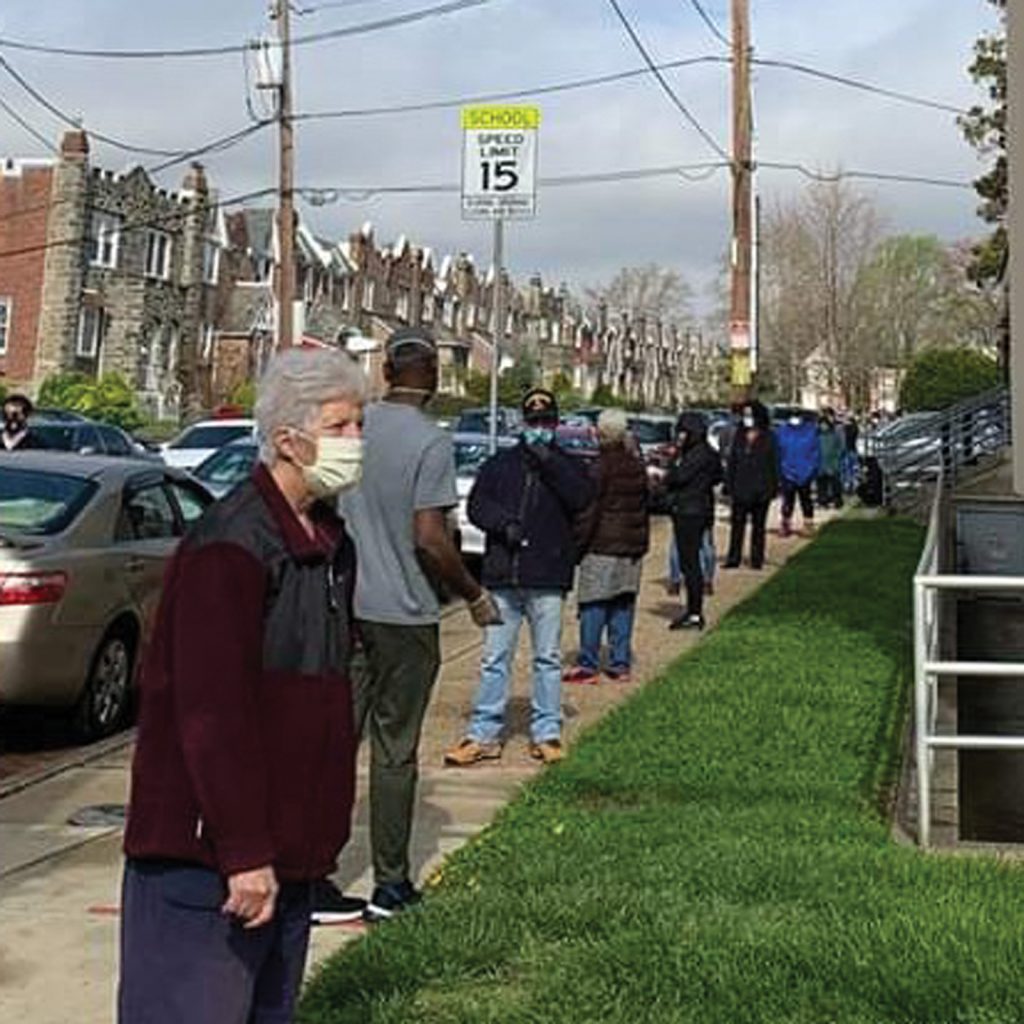 As we adhere to the 6-foot rule of social distancing, the line extends three city blocks, winding into the neighborhood that surrounds the corps. There are no complaints from neighbors, no murmuring from those in line as they wait their turn—only a sense of gratitude and appreciation. On alternating days, families and individuals will receive either a box of non-perishable or perishable food items.
The support from the corps (church) and local community has been an inspiration. Soldiers (members of The Salvation Army) and local civic groups volunteer to help distribute to the Philadelphia Police and Sherriff's Department, who help with traffic control and anything else that arises. Local law enforcement officers have been seen carrying boxes to the cars of the elderly who asked for a helping hand.
We pray this pandemic begins to level soon and that people can return to their jobs. In the meantime, we pray the supply lines continue to meet the growing demand. We are one of 40 sites of this kind in Philadelphia and we know that God Himself will need to multiply the resources for us to continue to meet men, women and children at their point of need.
By Majors Philip and Susan Wittenberg, Corps Officers at Philadelphia Citadel Corps
Wondering how you can help in the COVID-19 pandemic? Visit salvationarmyusa.org to see what The Salvation Army is doing in your neighborhood.
Selflessly Serving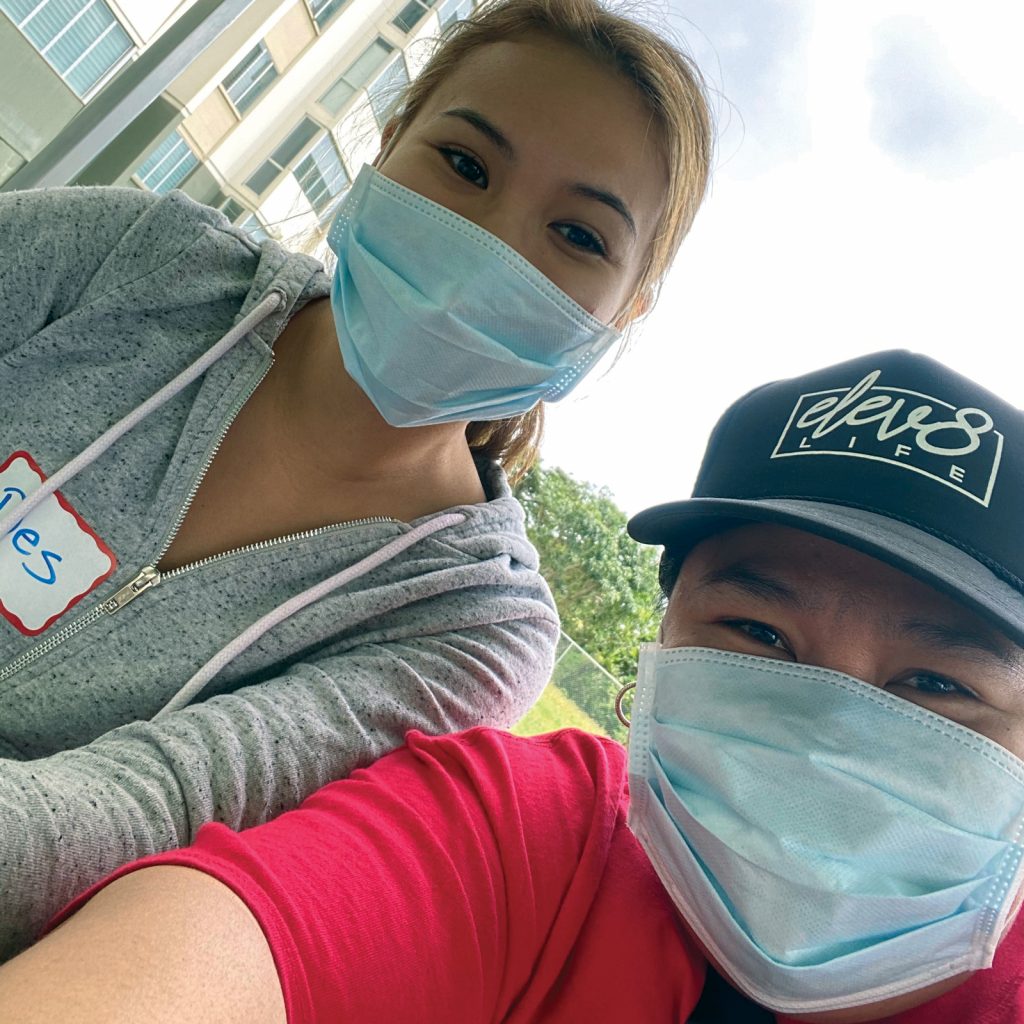 "During these challenging times, it's critical for our communities to work together (of course, 6 feet apart)," says Tatianna Mulitauaopele, Community Service Committee Chair of Echelon Hawaii. In her role, Tatianna helps to identify and organize opportunities for Echelon Hawaii's members to support The Salvation Army, and that has not stopped during the COVID-19 pandemic. Tatianna has given her time to help her local Salvation Army set up an emergency food pantry, pack and distribute food bags and assist with incoming calls for service. That last task has been the most challenging; there are so many people in need of help—it breaks her heart.
"During these challenging times, it's critical for our communities to work together (of course, 6 feet apart)."
What can Echelon members do to help in the midst of COVID-19 and social distancing practices? Now more than ever, it is essential to support the work of The Salvation Army as the organization leads communities and provides love and hope to families that are in need of assistance during these challenging times. We are so grateful to Tatianna, and others like her, who continue to selflessly serve.
If you are unsure of how to help during the COVID-19 pandemic, consider donating to your local Salvation Army if you are able. Many locations are now accepting in-kind donations of needed supplies as well as monetary donations. Find out more at salvationarmyusa.org/usn/covid19/.
By Katie Seifu, National Echelon Manager
Board Game Fun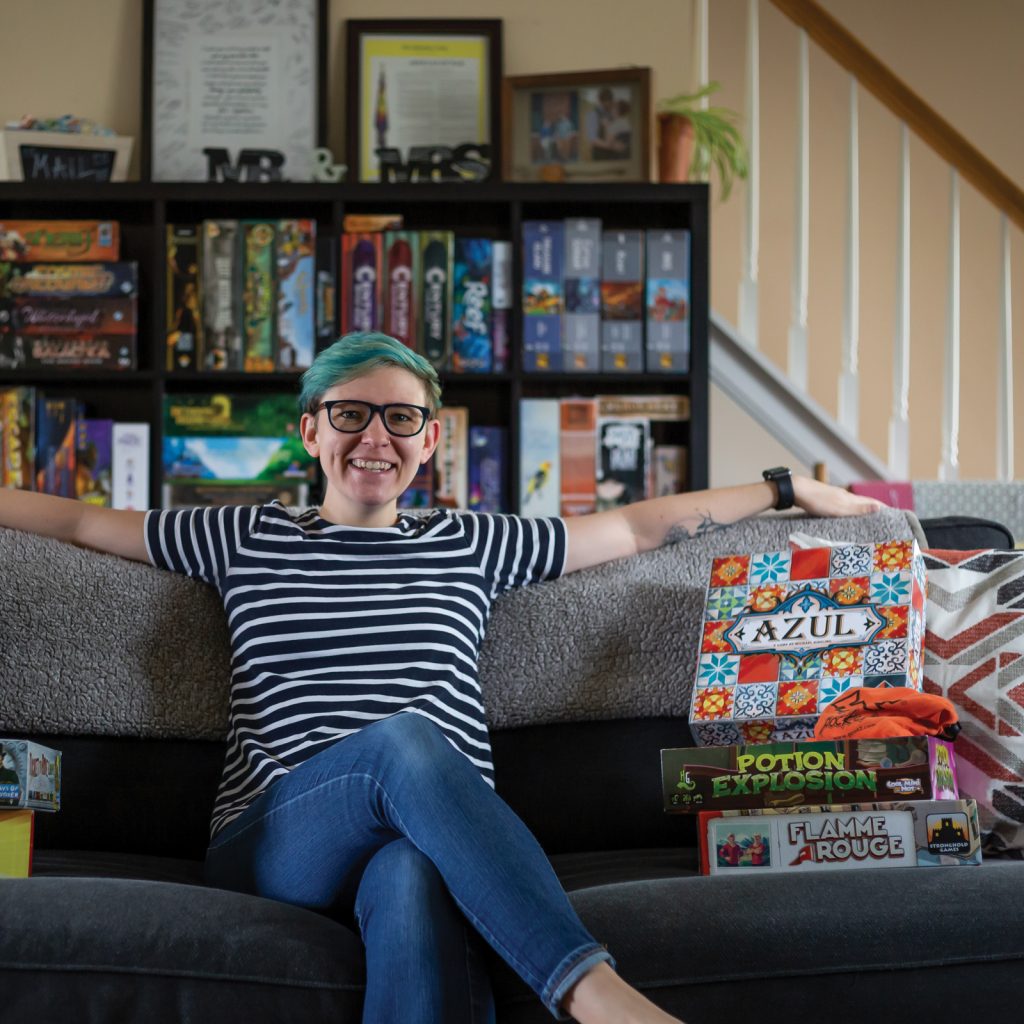 When social media feeds started to look eerily bleak, Salvationist (member of The Salvation Army) Morgan Irish-George aimed to become a bright spot. Starting on her Facebook profile, Morgan reviewed board games right from her couch. "Amidst the chaos," she shares, "I wanted to offer something positive and unifying to the world. It seemed natural to share recommendations for others to be able to enjoy my favorite hobby: board games!"
How have you shone joy and light during this season?
Drive-In Church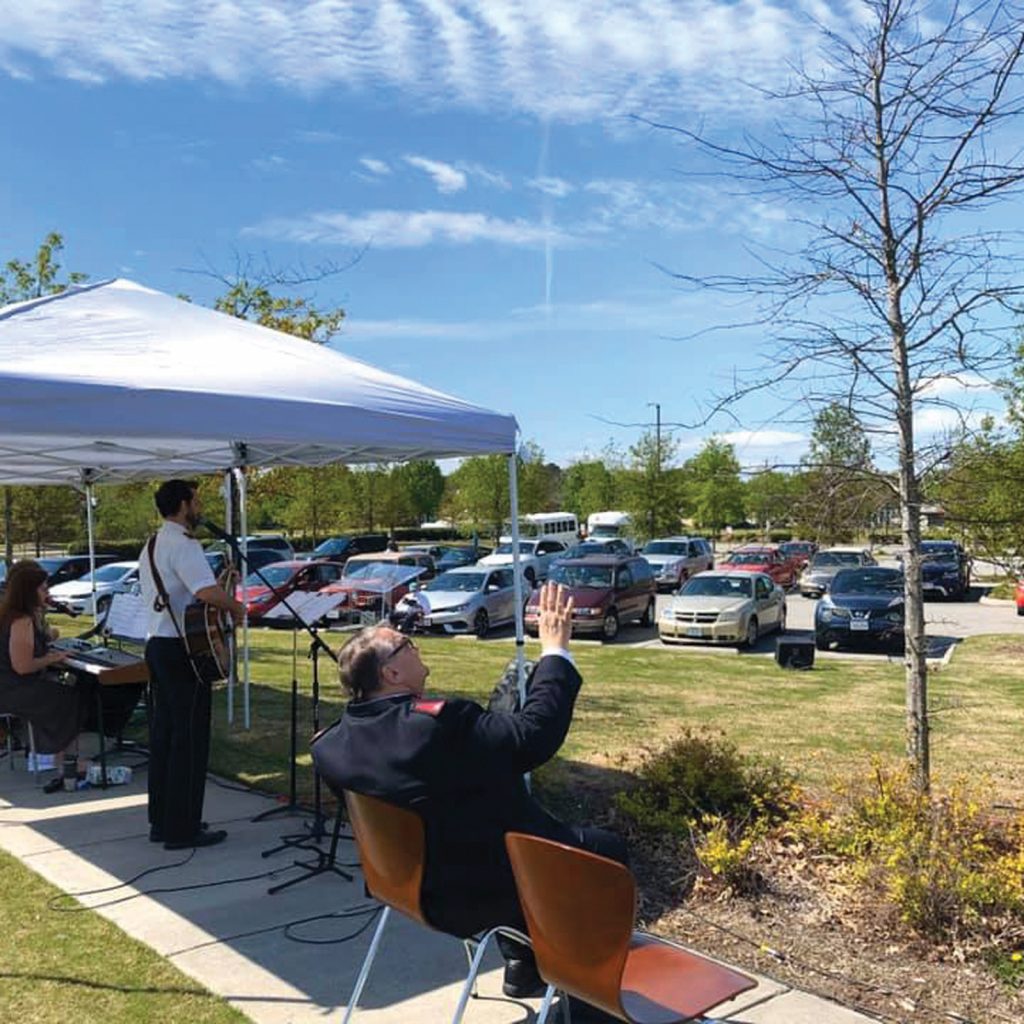 After weeks of practicing social distancing, The Salvation Army Hampton Roads Kroc Center in Virginia reunited for a "Drive-In" worship service held in the parking lot on Easter Sunday. Word of this service quickly spread throughout the community and upon hearing the news, one soldier (member of The Salvation Army) commented, "I can't wait! I'm coming very hungry."
As 180 people gathered for worship, car horns echoed throughout the neighborhood and arms were stretched outside the windows in praise to our risen Lord. The church doors were closed, but the Church was hungrier than ever for His presence! Our prayer is that life would never "return to normal." May the Church be kept sacred in this time of desperation so that the true heart of worship is resurrected and restored.
By Captain Kelsey Bridges, Hampton Roads Kroc Center
We Salute You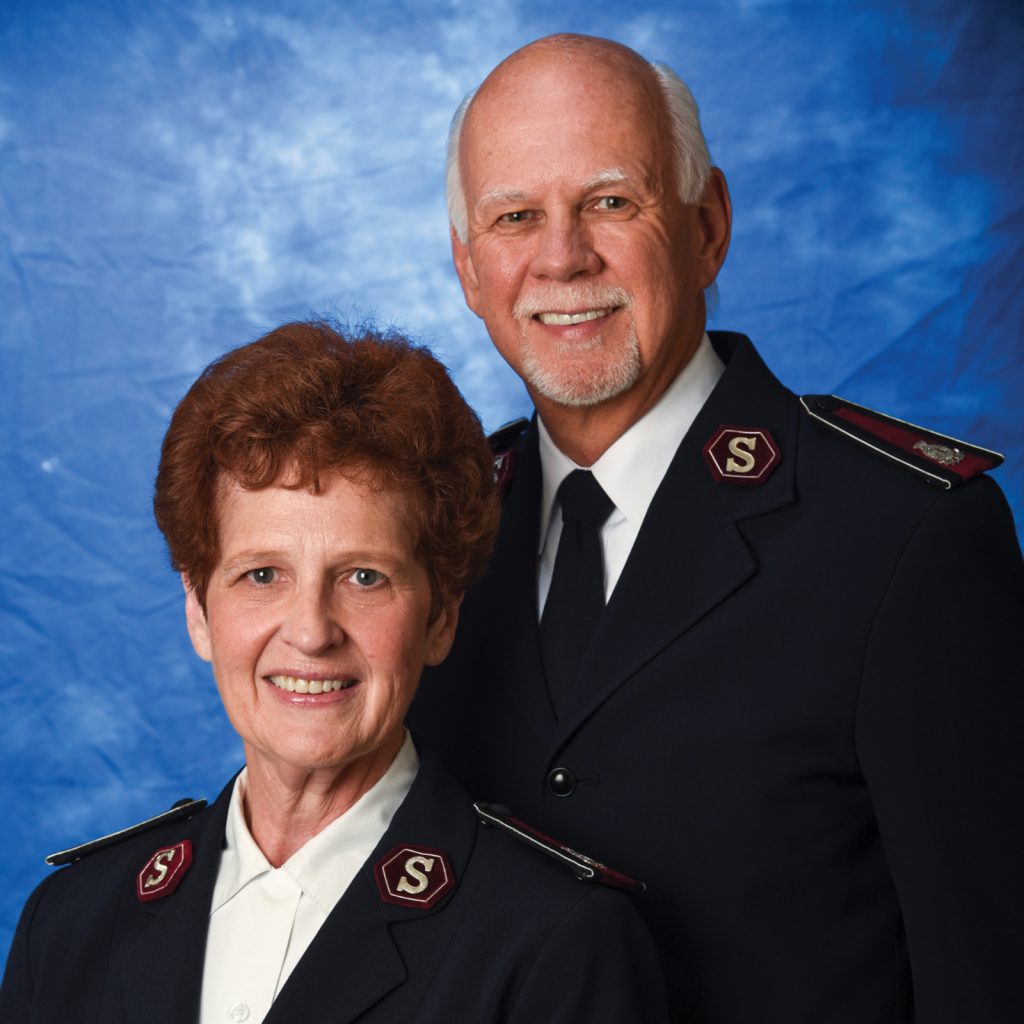 Ordained by The Salvation Army as ministers of the Gospel in June 1975, Commissioners David and Sharron Hudson have faithfully served God in 15 different appointments. Serving in Washington, Oregon, Idaho, California, Arizona, Hawaii and Virginia, the Hudsons extravagantly love God and His people. Currently appointed as National Commander and National President of Women's Ministries, respectively, the Hudsons retire from active officership on June 30, 2020.
We salute you, Commissioners, for 45 faithful years of service. We pray God's deepest blessing on your lives as you enter a new season of ministry!
Despite social distancing, we encourage you to stay connected! Subscribe to receive Peer at your doorstep for free at peermag.org/subscribe.