Echelon Helps #Rescue Christmas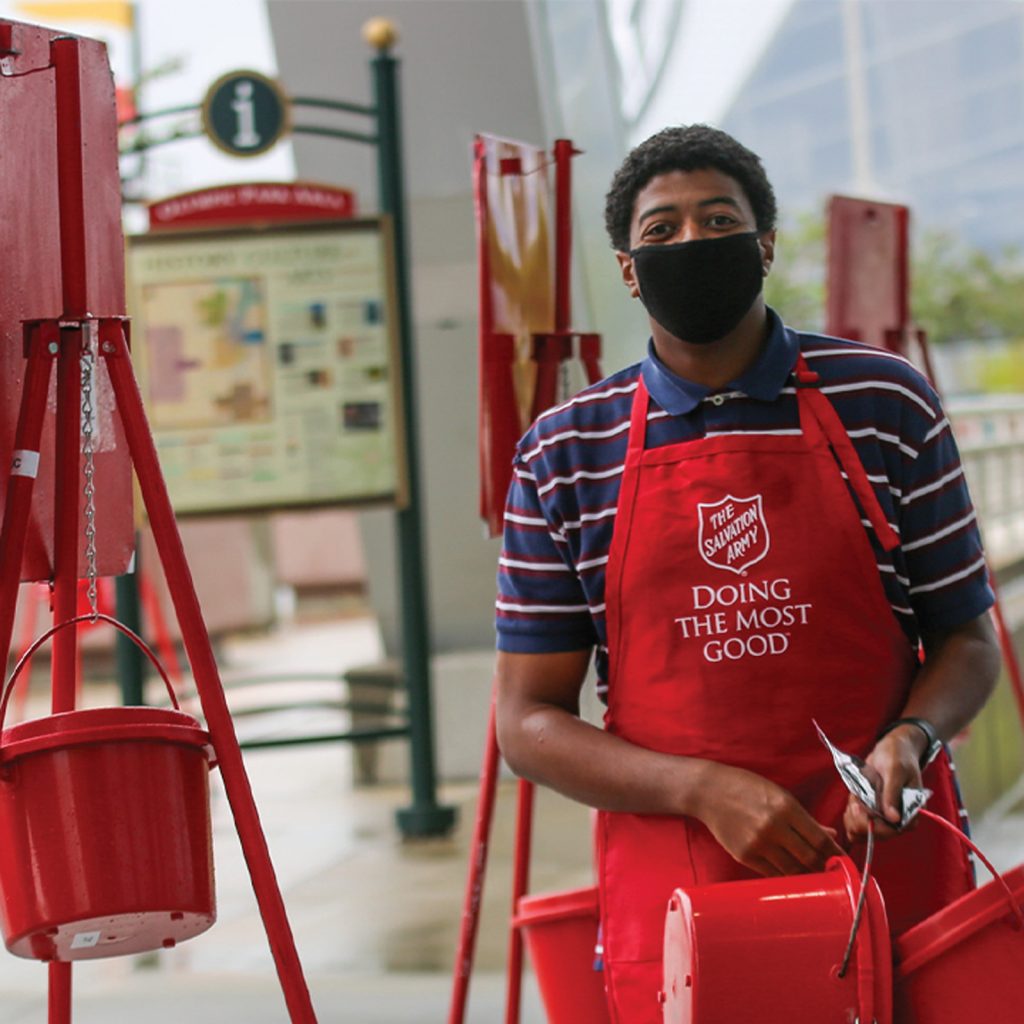 The 2020 Echelon Kettle Takeover is going digital! This December, Echelon chapters across the country are joining together to help The Salvation Army Rescue Christmas for those in need. Last year, 14 Echelon chapters participated in the first Echelon Kettle Takeover and collectively raised over $7,500 for The Salvation Army during only one day of in-person volunteering at a kettle in their local community. This year, due to COVID-19, the Echelon Kettle Takeover will take place as a digital fundraising campaign that will run from December 1-24.
By Katie Seifu, National Echelon Manager. To learn more, visit www.salvationarmyechelon.org/EchelonKettleTakeover.
Prepare for Incoming Cold Weather
Communities nationwide are preparing for the incoming colder weather. For every adult coat distributed, there is a need for three or four children's coats. Donating to The Salvation Army Thrift Stores is essential, especially in the colder months.
To find a donation center near you, visit satruck.org/DropOff.
#RescueChristmas
Which should a parent choose?
A. Buy Christmas gifts for their children
B. Pay the electric bill
Millions are faced with this decision in 2020.
The Salvation Army wants to help them choose both—with dignity and joy. That's why we offer holiday assistance and The Salvation Army Angel Tree to more than 2.6 million people each year. We want to Rescue Christmas for millions of families affected by COVID-19.
Get involved at www.RescueChristmas.org.
Generation Generosity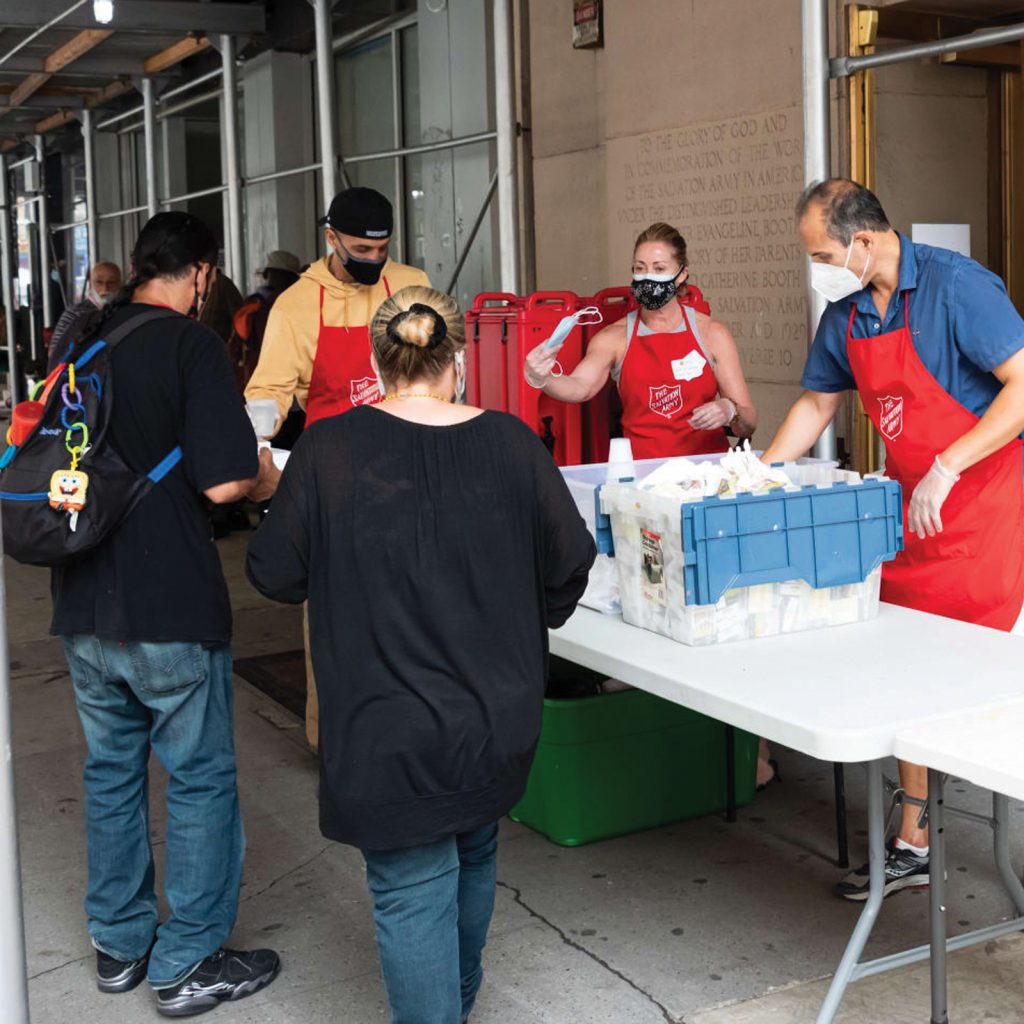 The Salvation Army volunteers hand food and face masks to people in need in Chelsea as the city continues re-opening following restrictions imposed to slow the spread of coronavirus on September 24, 2020 in New York City.
Although millennials moved back home with their parents or suffered financially due to the pandemic, according to a 2020 Zelle report, nearly 3 out of 4 millennials (25-34) have donated to a nonprofit since the pandemic began in March. Generation Z was the second highest at 66 percent. Financial health and the right organization or cause to give to are top factors young adults look to when looking to donate.
Caption by Megan Leonhardt from CNBC. Read the full article here.
Thanks from the Top
During a recent visit to The Salvation Army's Hurricane Laura incident command site in Lake Charles, LA, Mayor Nic Hunter, State Senator Ronnie Johns and United Way of Southwest Louisiana President Denise Durel praised the substantial relief work being done all while simultaneously dealing with a pandemic.
"The Salvation Army were some of the first people who were on the ground here, helping right after the storm when it was so needed," said Hunter.
To date, The Salvation Army has provided 293,954 meals in response to Hurricane Laura throughout affected areas of Louisiana and Texas. 210,814 of those meals were served in the Lake Charles area. Services are ongoing in the Lake Charles area, where about 49,000 people are still without power.
A Christmas Message From The General
2020 has been a unique, interesting and challenging year. We have lived through a global pandemic, the ramifications of which continue to impact our lives. We have witnessed the best of humanity as communities came together and helped to care for the vulnerable and those who needed to shield. We have seen the worst of humanity as racism cost lives and led to violent protests by demonstrators from varying viewpoints. All of this has combined to both exhilarate and exhaust us throughout this year.
It is into our messed-up, complex, ever-changing, uncertain and perplexing world and lives that Jesus comes as the Prince of Peace. Jesus was familiar with prejudice, oppressive political regimes, institutionalised religion and suffering. So, although the man, Jesus, lived 2,000 years ago, His words still have relevance because He, as God the Son, has an eternal perspective.
So, what did Jesus teach us about peace? On the Sermon on the Mount as He began His teaching ministry, Jesus said, "Blessed are the peacemakers, for they will be called children of God" (Matthew 5:9, NIV). Then, in preparing His disciples for His departure and the promised Holy Spirit, Jesus says, "Peace I leave with you; my peace I give you. I do not give to you as the world gives. Do not let your hearts be troubled and do not be afraid" (John 14:27, NIV).
This is the same Jesus who spoke to the wind and waves, saying, "Peace, be still" (Mark 4:39, KJV). To the woman who anointed His feet at Simon's house, Jesus said, "Your faith has saved you; go in peace." After explaining many things to His disciples, Jesus said, "I have told you these things, so that in me you may have peace. In this world you will have trouble. But take heart! I have overcome the world!" (John 16:33, NIV)
Peace bookmarks the earthly existence of Jesus. In announcing His birth, the angels declared, "Glory to God in the highest heaven, and on earth peace to those on whom his favor rests" (Luke 2:14, NIV). As Jesus appeared to his followers after His resurrection, He would declare, "Peace be with you!" (John 20:21, NIV).
If Jesus was so intent on sharing the peace of God with others, we must do the same. Now, we cannot share with others what we do not first have for ourselves. Consequently, we need to ensure we are living in relationship with God and receiving His peace that is beyond our understanding yet which keeps our hearts and minds secure in Christ Jesus (Philippians 4:7). It's from this position of peace, from keeping our focus upon God (Isaiah 26:3), that we are able to weather the storms of life, experience the peace of God in the storms of life and share that peace with others. We are called children of God when we are peacemakers, peace-bringers and peace-sharers because we share the very essence and nature of God with others.
This Advent season and beyond, let us be people of peace. May our very presence bring peace into rooms, situations and lives because we are indwelt by the Holy Spirit. May our words be words of peace because we share the words of God. Wherever you are and whatever situation you find yourself in, may you experience the peace of God today.