Jovanie Smith + Emaniel "E.B." Brifil: Empowering the Next Generation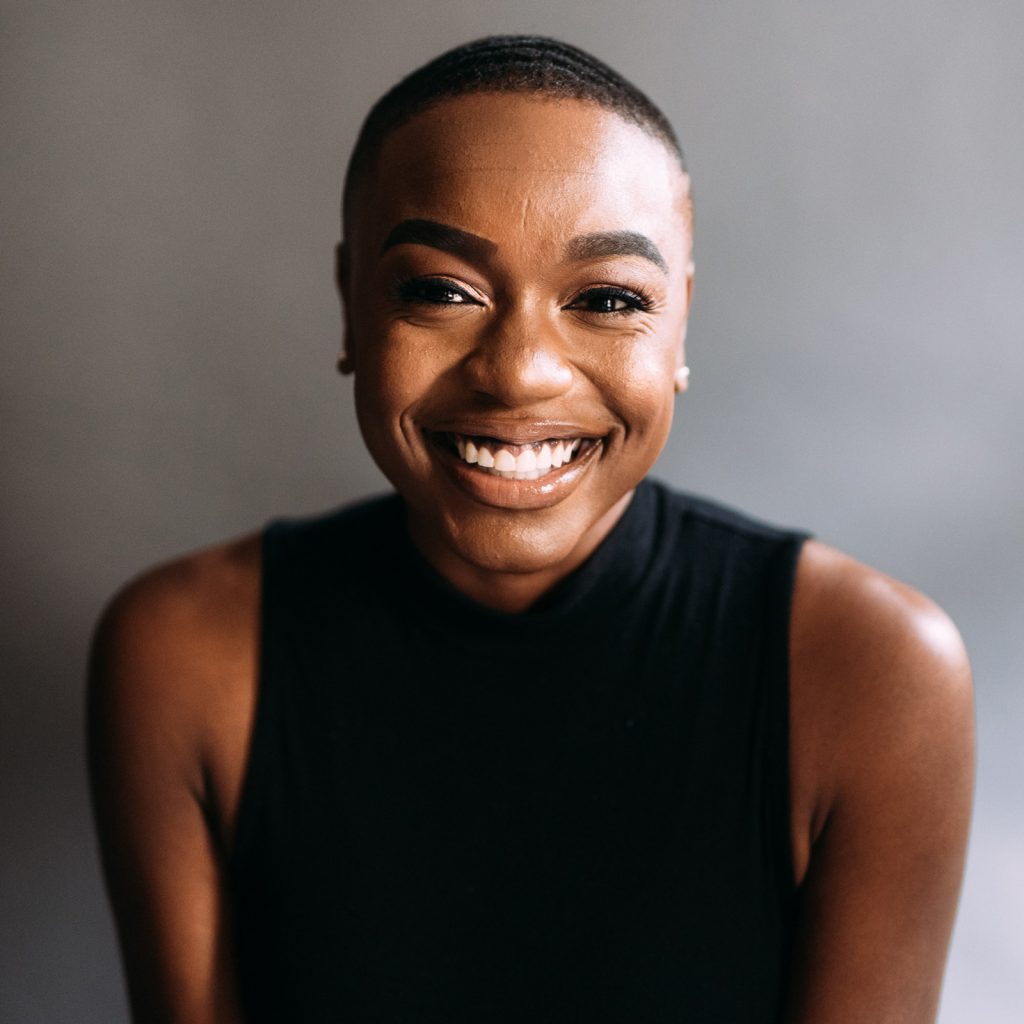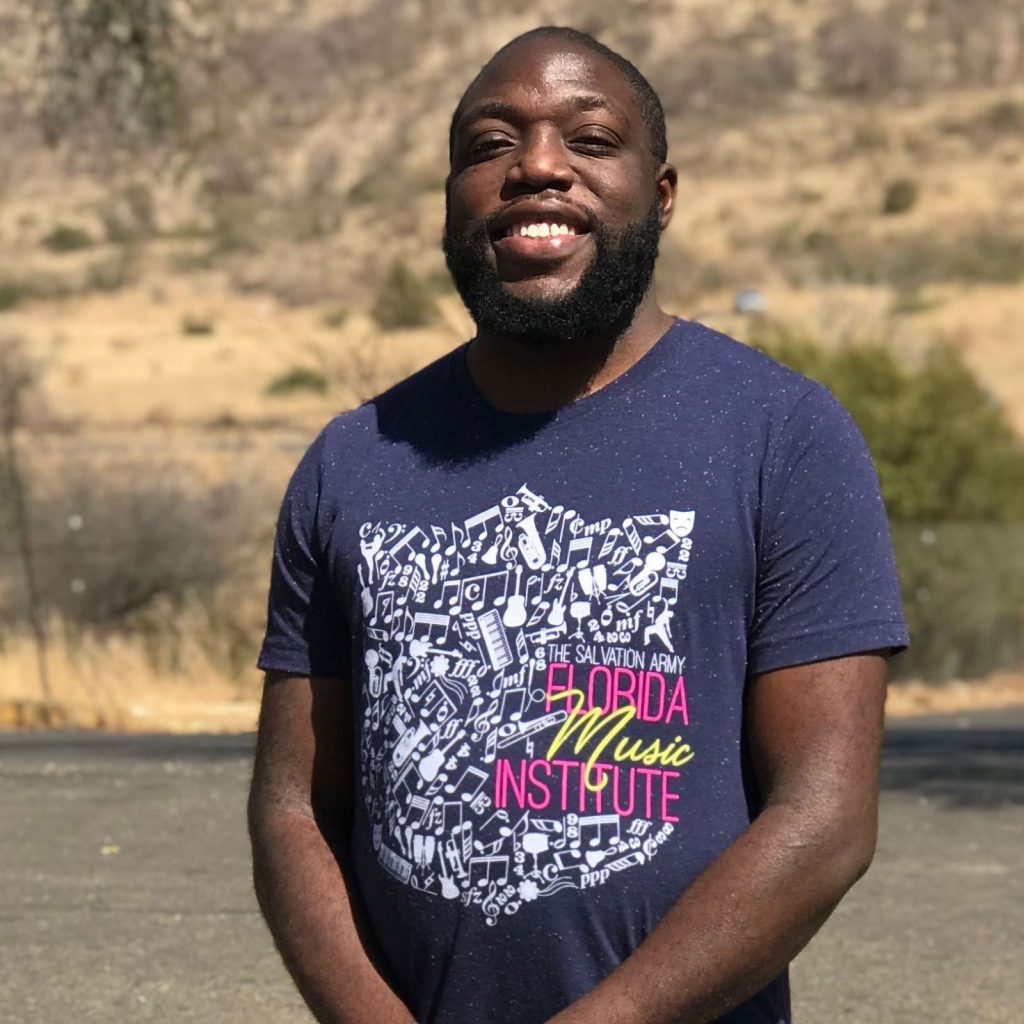 In a sea of Instagram and Tik Tok influencers, Jovanie Smith and Emaniel "E.B." Brifil are two Kingdom "influencers" making a realistic, monumental impact on the next generation and for the Kingdom of God.
Jovanie Smith, the Territorial Young Adult Mission Deployment Coordinator for the USA Southern Territory, and Emaniel "E.B." Brifil, the Divisional Young Adult & Missions Coordinator for the Florida Division, both serve youth and young adults and guide them on their spiritual walk.
"I think for me when I think about someone who influences the Kingdom," says Jovanie, "they display how Jesus impacted when He was on the earth and how He loved different people. Someone who is not afraid to share their faith, and all from authentically being themselves full-on."
This authenticity, as E.B. and Jovanie both agree, brings a level of transparency to cultivating these mentor relationships. "It's definitely just with the relationships you do, naturally and organically, that you're intentional with them. And that you're transparent in your approach," E.B. notes. "And knowing that responsibility that God has entrusted me with, and with people who look up to me, I know I have to be on my P's and Q's as much as possible."
E.B. and Jovanie are both passionate about helping youth in their spiritual walk. "Just watching them be themselves because it's not my job to micromanage their spiritual walk, but it's for me to guide them," E.B. says, "and for me to be an example of that." Being in the trenches at summer camp, for example, allows E.B. to get to know these youth on a personal level. "I just serve as just another voice and advocate for them, but also like a mediator or middleman between our amazing leadership team and our amazing young people." When a youth shares a part of their story, youth workers like E.B. have to ask themselves, "how do I help these young people in their situation?"
"This generation has one thing to offer," Jovanie adds, "and I think if you can tap into what is that niche, what is that thing that drives you, what is something that God has put into your heart when you wake up every day, then it will excite you."
BTW, How Can I Get Involved With the Church Today?
"Find out not only one, what you're good at," E.B. starts, "because I know sometimes people say go with what you're good at, or what you're passionate about, but pray over what God is calling you to do." Agreeing with E.B., Jovanie adds, "I would also say do not let anyone box you in either. It is okay if you are not hitting the traditional ministries or the traditional things that we see in a church, but I would also … just feel where your strengths are and what God has placed on you."
Working with Youth
Many of these young adults come from different backgrounds and experiences, especially at camp or on mission trips. "I have to learn to be patient as a leader," says Jovanie. Some young adults are leaving home for the first time to go to camp or on mission trips. "I have to be patient and very sensitive to individuals' emotions and what they are going through."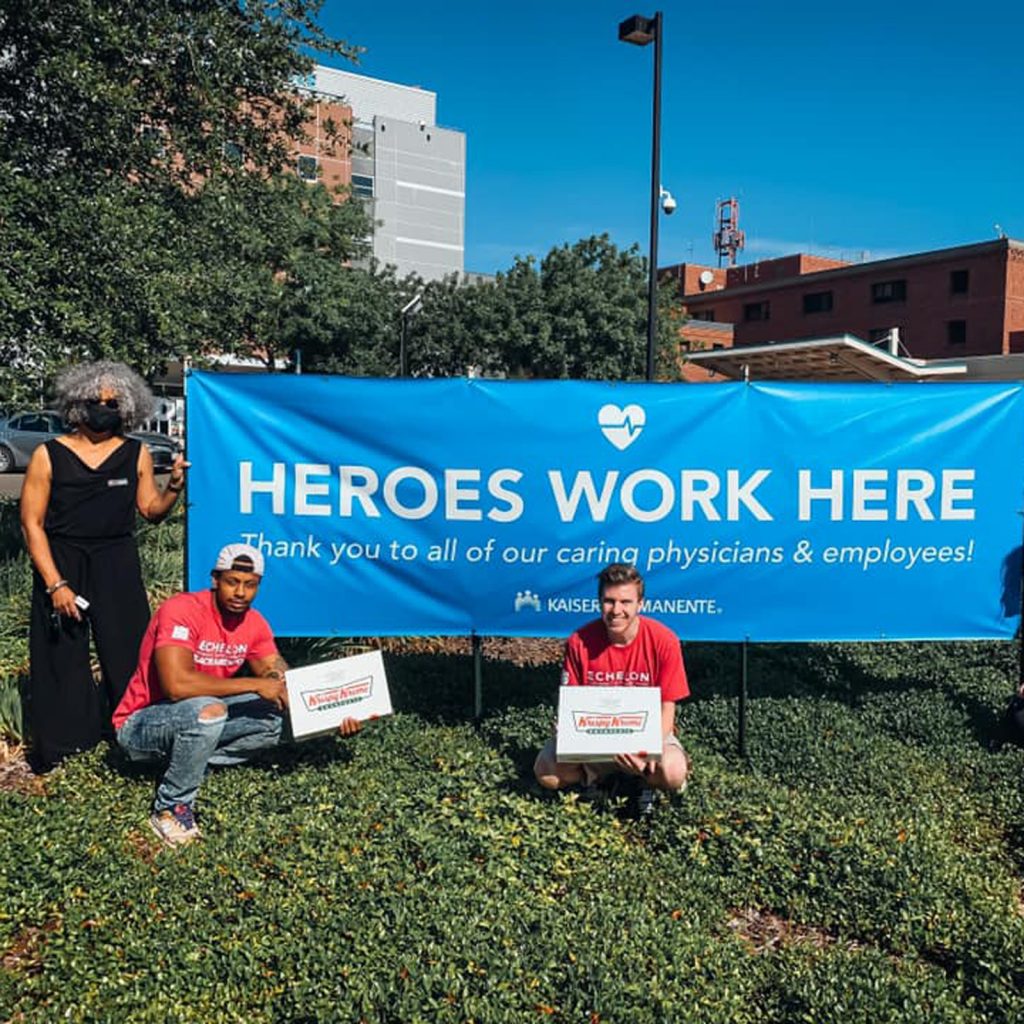 Bringing Donuts to Frontline Workers in Sacramento
Echelon Sacramento has started an annual tradition of recognizing everyday heroes on National Donut Day. Held annually on the first Friday in June, National Donut Day is a day of sweet treats and recognizing those serving others in our communities. The celebration stems from a tradition dating back to World War I when hundreds of Salvation Army volunteers traveled overseas to provide emotional and spiritual support, fried treats and other supplies to those serving on the frontlines of the war.
The Salvation Army has continued this tradition of providing services and supplies to frontline workers, and Echelon Sacramento has made this a special event for their local chapter every year. Starting by bringing donuts and encouragement to local firefighters and police officers, they have adapted each year to recognize different groups of local heroes.
In 2020, Echelon members provided over 800 donuts to the staff at a local hospital to recognize the heroic work they were doing on the frontlines of the COVID-19 pandemic. This year, the group will celebrate local restaurant owners and staff who have persevered and adapted to continue operating amid the pandemic.
Who will you celebrate on National Donut Day this year?
By Katie Seifu, National Echelon Manager
Revolution Hawaii
Revolution Hawaii (RevHi) is a residential mission opportunity in Hawaii for 18- to 29-year-olds, designed to reach, disciple and mobilize young adults. In March, Oahu (Hawaii) was hit by heavy flooding, resulting in home damage and displaced businesses. RevHi, based at The Salvation Army Camp Homelani on Oahu, showed up to lend a helping hand. Together with the Hawaii Kroc Center, they distributed more than 900 snacks and refreshments, 100 food boxes and provided emotional and spiritual care in just one week of March.
To read more about Revolution Hawaii and how they serve, visit revolutionhawaii.org/ or follow on Instagram @revolutionhawaii.
Did You Know?
The first National Donut Day was celebrated in Chicago in 1938 to honor the "Donut Lassies" who delivered donuts to soldiers fighting in WWI. Did you know that the largest donut ever made was an American-style jelly donut weighing 1.7 tons (3,400 lbs)? It was 16 feet in diameter and 16 inches high.
Airwave Angels
On the remote island of Imeji (located in the Marshall Islands between Hawaii and the Philippines) where there are no cell service and no modern way of communication, The Salvation Army Ministry Leaders Raston and Jewel Lanwe found a creative way to bring the Gospel to the residents: they distributed walkie-talkies! Using these walkie-talkies, residents can now share devotionals, worship and pray together and spend time in the community discussing each other's needs.